the Author of the "The Diamond Process™: Using Everyday Triggers to Awaken the Treasure Within" and an internationally-esteemed Transformational Coach. Although I am gratefully thriving today, I wasn't always living my purpose with such gusto! Here is how it all began…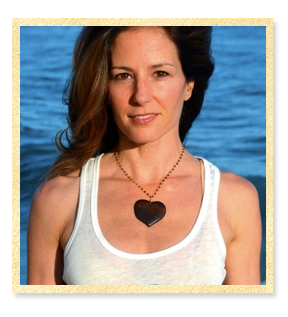 At 31, I was living the "good life" in Los Angeles. I was in love, radiating perfect health, establishing myself as a successful integrative healer, and surrounded by people who loved me. Yet, deep down I was lost.
On the outside, everything looked great. I had managed to paint myself into a perfect portrait, ensuring that those around me would accept and even admire my life.
I was an expert at maintaining a polished, successful image. Meanwhile, there was a wild world within me locked up, knocking at my heart with despair, a hunger to be seen, accepted, and set free.
Even after years of personal development workshops, a Masters degree in Spiritual Psychology, and a lifetime of inner-exploration, this hidden world within me remained undiscovered territory until a fateful journey pulled the veil from over my eyes.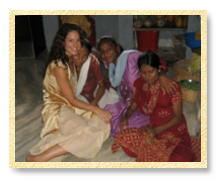 In 2008, I embarked on a solo trip to Southern India for three months, where I trained to become a yoga teacher. In that time, the incomplete persona I sought refuge behind began to dismantle as a depth within me emerged on its own accord.
To some spiritual seekers, this may sound rather romantic, an initiation into my awakening, but, upon returning to the States, I fell into crisis. I had come head to head with deep, unresolved pain within and a complete loss of self-orientation.
Although, I had a great support system around me, I was too ashamed to expose my grief and confusion to anyone. It felt too big, too ugly, too crazy, and definitely too scary.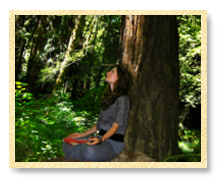 My life on the surface, however shiny, was making me feel even emptier. So, I left. I left everything I knew behind: my boyfriend of 6 years, our home, my city, community, material belongings… everything (except my sweet kitty, Stella, of course)!
For 18 months, l lived alone in the woods, grieving the life I was leaving behind and the persona I had spent a lifetime building.
For the first time in 32 years, I was getting to know me- all parts of me- beneath the conditions, pressures, and expectations to be something else.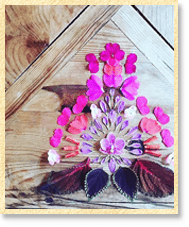 After months away from the city noise, I found myself utilizing a unique dialogue process out of sheer necessity in order to gain some understanding of what I was mining up from within. I spent 9 solid months, relentlessly utilizing this "Medicinal Dialogue" Process to heal, integrate, and befriend my Whole Self.
The Darkest Precedes The Dawn…
With each deeply revealing dialogue, I was finally starting to experience True, Unconditional Love. Only, this time, rather than expecting someone else to show up with such devotion, I was "The One" I had been waiting for.
Although it got even darker before any sign of life, and at times my quest for freedom felt more akin to a prison run by wardens of fear, doubt, and shame, slowly but surely, I was finally led to what I call the "Diamond Self," The True Me at the radiant, unshakable center of my being, unscathed by all the ups and downs of day-to-day life!!!

"Valuable, Resilient, Natural, Clear, Brilliant…The Diamond Self lives at the core of every human being."
Upon returning back to Los Angeles, I recognized a distinct pattern in the practice I had been utilizing all those months in Nature, a formula of sorts bundling Intention, Medicinal Dialogue, Self-Forgiveness, Pranayama, and Presence work. I also knew deep at my core that it was time to share this integrative process with resonant community.
My approach to life celebrates one of Nature's Laws: challenges promote growth, evolution, and resilience… and as human beings, it is up to us to rise up in the face of adversity and consciously respond to the Truth of each moment, empowering our hearts to shine even brighter for the Highest Good of All!
With that said… although, challenges are simply part of the path, struggling does not have to be. My services are intended to consciously empower individuals and groups to discover and embody their True, Whole Natures and Unique Destinies without the struggle.
Contact Veronica
Veronica can't always respond to your messages but she does appreciate them.